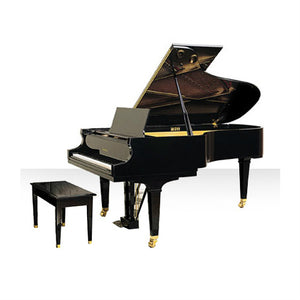 Baldwin SF10
Regular price $76,500.00 Sale
The Baldwin SF10 Artist Grand Piano
There is excellence, and then there is perfection. The Baldwin SF-10 Artist Grand series semi-concert grand is sheer perfection. Not only does it make a statement about you and your standards, it also says plenty about what's really important in your life. The SF-10 features the highest quality construction and unmatched performance for today's discriminating buyer. Measuring exactly 7' 0", the SF-10 is one of our largest grand pianos.
Impeccable construction and gorgeous tone at your fingertips
The SF-10 Artist Grand features a one-piece, continuously-bent rim design constructed entirely of maple. In addition, the soundboard is made of the finest quartersawn spruce available so that you can enjoy wood with a tighter grain pattern and improved uniformity for exceptional tonal characteristics. The piano's sharp keys are made from genuine African ebony wood with an added radius for a superior feel, and the Baldwin-engineered Renner hammers deliver world-class note-to-note clarity and consistency, while its superior action provides faster key repetition rates, in addition to an increase in dynamic tonal range. The three pedals are traditional — soft, sustain and sustenuto — and constructed from solid brass, and the fallboard utilizes a pneumatic, slow-close mechanism design.
The SF10 is available in High Polished Ebony and Satin Ebony finishes.
Find this piano at an authorized Baldwin dealer near you.