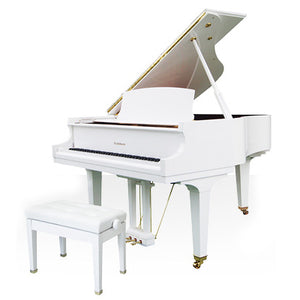 Baldwin BP148
Regular price $22,395.00 Sale
The Baldwin BP148 Grand Piano
Baldwin's new Professional Series has a piano for all budgets and every requirement, and the BP148 makes a great case in point. If you always wanted a genuine grand piano of unparalleled Baldwin quality but thought you didn't quite have the space to accommodate one, the new BP148 just might be the answer to your dreams. At exactly 4'10", the BP148 is one of the smallest grand pianos in its class, but its compact dimensions never equate to a downsized sound. This diminutive grand easily delivers the full, rich tone you'd expect from a full-sized instrument and retains the impressive presence and prestige of having a legendary Baldwin grand piano in your living space.
Classic design, handcrafted features to last you a lifetime
Any time you buy a Baldwin grand piano you expect a beautiful and classic cabinet design along with warm tone and exceptionally responsive action. These features are in abundance in the new BP148. To ensure integrity, each part of this grand is carefully chosen for its uniformity and performance. The soundboard and rib material are made from solid Alaskan Sitka spruce, while the bridge is made from hard maple and precision notched by hand. Each key is crafted of solid Alaskan Sitka spruce with ebony wood sharp keys, and individually weighted for the most responsive action possible. Abel German hammers sound high-quality Roslau strings, and a 17-ply hard maple pin block offers a lifetime of precision performance. The three traditional pedals — soft, sustain and sostenuto — are constructed of solid brass, and the fallboard utilizes a slow-close mechanism for a smooth, sure motion when in use. This makes it easier and safer for younger players.
The best fit and finish for you
A grand piano naturally becomes the focal point of any room, and if your space is limited, you'll want to fill it with the finest piano built. The Baldwin BP148 is the best in its class. Find it at your nearest authorized Baldwin piano dealer.