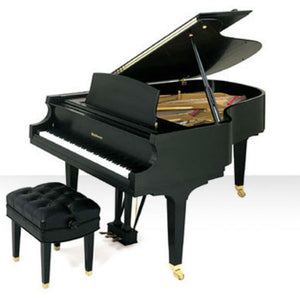 Baldwin L1
Regular price $50,700.00 Sale
The Baldwin L1 Artist Grand Piano
The Baldwin L1 Artist Grand series piano is carefully engineered to deliver the most magnificently rich and thunderous sound possible, making the L1 a favorite among many of today's most prominent jazz players. Measuring exactly 6' 3", the L1 delivers the full grandeur of a grand piano in a smaller size. The L1 is one of the world's finest built instruments, combining traditional grand piano style and performance to deliver the full, rich, resonant sound you'd expect from the largest concert grands.

Full size piano with giant sound
Falling in the middle of our grand piano line, size-wise, the 6'3" L1 will fit beautifully into almost any space. Superior craftsmanship and materials set this piano apart from Baldwin's competitors. The L1 features a one-piece, continuously-bent rim design constructed entirely of maple. In addition, the soundboard is made of the finest quartersawn spruce available so that you can enjoy wood with a tighter grain pattern and improved uniformity for exceptional tonal characteristics. The piano's sharp keys are made from genuine African ebony wood with an added radius for a superior feel, and the Baldwin-engineered Renner hammers deliver world-class note-to-note clarity and consistency, while its superior action provides faster key repetition rates, in addition to an increase in dynamic tonal range. The three pedals are traditional — soft, sustain and sustenuto — and constructed from solid brass, and the fallboard utilizes a pneumatic, slow-close mechanism design.
The L1 is available in Satin Ebony, High Polished Ebony, Satin Mahogany, High Polished Mahogany, Satin Walnut and High Polished Walnut.
Find this piano at an authorized Baldwin dealer near you.